Sorry GHBLite is now discontinued...
Last Chance to Get GHBLite.



Dear Reader

If you have ever wanted a simple bit of kit that allows you to bet automatically on Betfair...then YOU need to look no further.

GHB-Lite is probably just what you have been looking for...

...And with our specially selected tips (that you get as a *bonus) you can just let the bot automatically, **make you money.

GHB-Lite has evolved from one of the best known betting bot's on the market called the Grey Horse Bot. This betting Bot has been developed over 6 years and has proved to hundreds of satisfied customers, that it is stable and does "exactly what it says on the box".

To be honest the problem with the Grey Horse Bot is that there are so many advanced features built into the software, that many people find it too complex for their needs.

It'sa bit like using a Racing Car to get a pint of milk from the shop, something with a lot less power will do the same thing!

Our problem has been that we have focused so much on developing the best bot available that our customer request to bring out a slightly "Toned Down" version, have been mostly ignored.

Until Now....

GHB-Lite is a full featured betting bot that will do exactly what is was made to do!!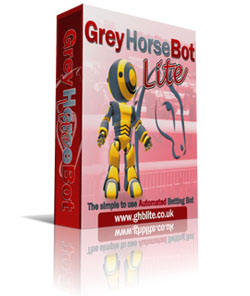 It's Safe because...
GHB-Lite is built on the same architect as the immensely popular Grey Horse Bot from a recognised Betair API developer.

you can be rest assured GHB-Lite does exactly "what it says on the box"

Its also safe because...
It has a number of stop / loss settings for just about every type of scenario.

Including: Actual profit and loss, percentage of bank, number of winners or losers (in sequence or out of sequence)

GHB-Lite prevents Human Error.
Go on admit it?

At some time or another you have pressed the wrong button or selected the wrong runner and paid for it with real money.

With GHB-Lite you should "kiss these problems good-bye" because you can pre-set everything ready for the days racing and your settings are saved automatically.

No sudden rush, sit back, relax and let GHB-Lite do all the work.

Automated

GHB-Lite can run day, after day, after day, and continue to run with the settings you give it.

But that's not all...

Do you have more than one system you are running?

If so, you can just run another copy ofGHB-Lite and they will run totally independent of each other, even the stop/loss work independently.

Click Here (opens in new window) to see the full feature list.
Heres what GHB-Lite can do...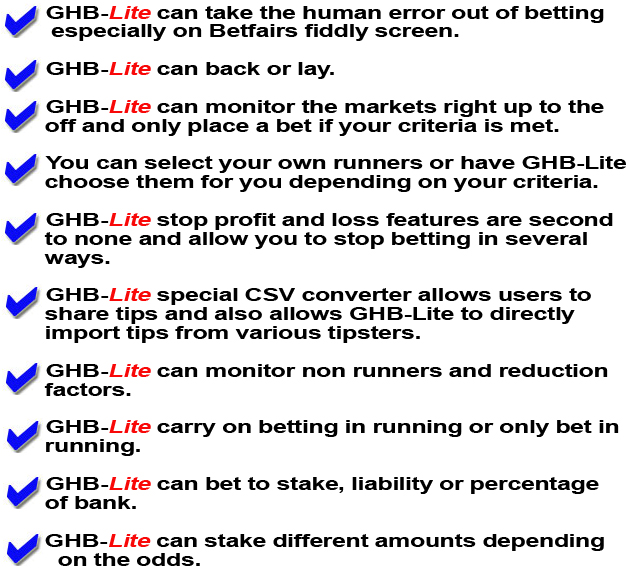 So how much is GHB-Lite going to cost?
Well just before I tell you let me just mention one thing...

Limited!!!

Sorry - This is a limited one time offer only. So while you are reading this page, others are ordering GHB-Lite and there are only a few remaining..

How many?
1000's? No way!
500? nope...
250? even?

Nope just 100 37.

Yep that's right! There are just 100 copies available this YEAR (2014).

Why?

"Because we want you to feel special!"
Last year when we opened for Christmas we let 200 people get GHB-Lite it but this year we are restricting it to 100 because we have now added the new bonus

So if you are one of the lucky 100 people who get a copy of GHB-Lite today, you will know that we are here to give you our total support and give you all the advice and help you need.

Not that you will probably need any, but just in case you do!

We couldn't promise that if we allowed 1000's to use it.
Because of this limited offer, we expect to fill up the places very quickly!
So there you have a good reasons why you should be one of the 100 lucky people who get your hands on one of the limited copies of GHB-Lite this year.
But there is one more reason why you may want to act now...
The Price!
In the past you can only get GHBLite by paying for it in one go but we decided to drop that idea and instead make it accessible to everyone and that is why places are filling up fast.
So get your hands on a copy
NOW
before it to late....
So what are you waiting for?
These places will not be available for long so why not lock in yours now.
By us opening this offer today we have shown that we have listened to our customers and have given you the chance to get your hands on a copy of GHB-Lite.

So now is the time to act quickly and get your copy of GHB-Lite...
Click Here to get your copy.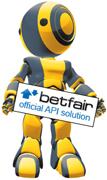 Q.What is this Betfair API thing?
A. You don't actually have to worry about this, I only mentionedit because I want to show you that GHB-Lite is programmed using authorised information from Betfair, and that weare an authorised Betfair developer.

Q. Can I really trust GHB-Lite to automatically bet for me?
A. Well, I think that is a big yes, we have been creating betting bot's for over 8 years and as an authorised Betfair developer, we know how to create safe and functional products.






Works with Windows® XP, Vista®, Windows® 7, windows® 8
Best Regards
Malcolm
Bluebell Data.

P.S. This really is an amazing product and this "special offer" makes it even better so don't wait around until it's to late. Order Now.

P.P.S. Remember there are limited places available.

So Order Now Order Now.



Please "Gamble Responsibly" http://www.gambleaware.co.uk/

Privacy Statement | Disclaimer | Terms
---
© Copyright 2006 - Bluebell Data , Registered Office: 29 Bath Rd, Swindon, Wiltshire, SN1 4AS Tel: 08455443966. Bot logo copyright Bluebell Data.